Umpqua Valley Retriever Club presents
Don Remien's
Basics Plus Workshop
June 25 - 26, 2005
Creswell, OR
General Information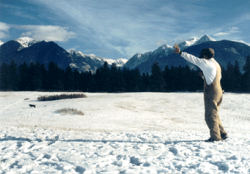 Training Champions in Montana
Don Remien's Basics Plus Workshop is designed for individuals who wish to refine their Retriever training skills. The content of each workshop is personalized and based on the needs and interests of its participants. Each participant will be provided with the Basics Plus Training Manual to be used as a guide along with the information and insights passed on by Don in the workshop.
In the past, attendees of Basics Plus Workshops have consisted of those who are very new to the sport to others who have had years of experience. The level of each Workshop is determined by the level of the dogs enrolled along with consideration to the experience of the participants. Applications (participants with a dog) are chosen based on the best combination of dogs and participants to create optimal learning for all attendees. The Workshop is designed for all breeds of Retrievers. We request that only the 10 dogs registered for training with their owner be at the kennel and surrounding area during the Workshop hours.
A delicious lunch will be provided both Saturday and Sunday. If you have special dietary needs, please notify us upon registration.
We have beautiful properties to utilize for this Workshop and ask that you be responsible for keeping the grounds clean of any trash that may accumulate during the day. There is no smoking permitted on the training property. Please leave all bitches in season at home.
$230 Participant Spaces
There are 10 spaces available for participants who would like "one-on-one" coaching. These participants will go through various training steps with their own dog while being coached by Don.
$130 Observer Spaces
Observer participants (attending the Workshop without a dog) will be encouraged to ask questions, comment, and actively participate in shared conversation, while observing the individual coaching and demonstrations.
Don Remien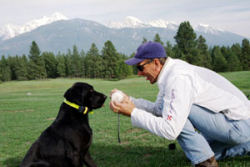 It's Yummy, Say Fetch Please
Don Remien has been involved with the training of Retrievers for more than 25 years. In 1981, after 9 years and 2 Field Champions, Don adjusted his goals and the hobby he was so adamant about became Rising Sun Retrievers, Inc. Since Don Remien began his venture as a Field Trial Retriever Trainer, he has been connected with the making of 66 Field Champions, 16 other dogs with all age wins, 3 National Amateur Champions, 33 National Finalists, 12 double header winners, and numerous dogs on the Derby List, including several in the Top Ten and hundreds of "World Class" Gun Dogs.
Don is as well known for his skills in the training of "Dog Trainers" as he is for training dogs. His love for dogs and animals is only surpassed by his love for family and life itself.
Don was raised in a small logging town near Seattle, Washington. In 1972, after graduating from college with a degree in Forestry, he moved to Missoula, Montana to go to work for a private timber company. It was there that he got involved with the Western Montana Retriever Club and trained his first retriever.
Don now lives about 50 miles north of Missoula. He employs one full-time trainer and various part-time help. Together, they train 20 - 30 dogs daily ranging in age from 7 months on up.
Don's main focus has always been Field Trial Competition but Don believes the basic foundation for all dogs is the same; only the demands and depth of application vary.
Motels
Creswell Best Western, 345 Oregon Ave., Creswell, OR, 541-895-3341
Single $62, Double $72, $10/night per pet
Super 8, 3315 Gateway St. (East of I-5 and Beltline), Springfield, OR, 541-746-1314
Single $66.29, Double $75.13, $10/night per pet
Camping
Dry camping is available on the grounds. Please notify Dianne Morley at 541-895-4488 or dianne.morley@gmail.com. Campers are welcome to bring non-participating dogs. We ask that you leave these dogs and puppies in the camping area and not bring them up to the kennel/workshop area.
Eugene Kamping World RV Park, 90932 South Stuart Way, Coburg, OR 541-343-4832