Int CH Merganser's Abram Tank MH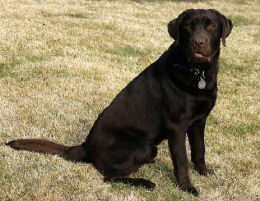 Frozen Semen Breeding Arrangements: Stud fee for breeding to Int CH Merganser's Abram Tank MH is $1,000 which is due prior to semen shipment. Copies of AKC registration, pedigree, Hip OFA or Penn Hip, eye clearance, an EIC Clear test rating or EIC clearance by parentage are required prior to breeding. Stud fee will be reduced to $500/pup if one pup results in a litter if one vial was used. If two vials are used in the breeding, stud fee is reduced to $1,000 if one pup results in the litter and $1,500 if two pups result in the litter. If no pups result in a breeding, stud fee will reduced to $500 per vial.
Abe's frozen semen is collected and stored at the International Canine Semen Bank (ICSB) in Portland, OR. ICSB's research in canine reproduction and semen cryopreservation began in 1971 and is still ongoing. ICSB has produced a live litter of puppies with semen frozen for 30 years. Frozen semen breeding costs for owners of bitches are: $30 tank rental ($9.00/day starting on day 8), $50 retrieval fee, and shipping (average charge is $100-$175). For standard shipping fees, ICSB needs to be notified within three working days prior to shipment. Additional charges result if ICSB is notified in less than three working days. Contact ICSB at 503-663-7031 as these prices are subject to change.
Back to Int CH Merganser's Abram Tank MH