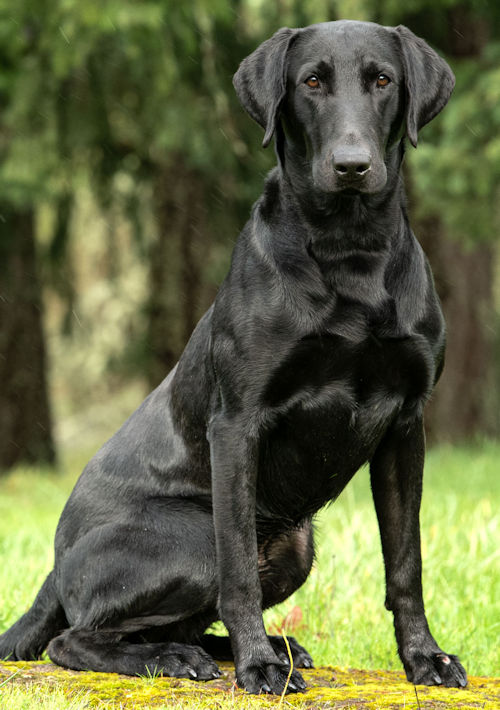 Merganser's Duck Dog Herbert
(32 Derby Points)
Hampton Bay Retrievers sent me a puppy ad: Sire "Clooney" x Dam out of "Mickey" x "Billie." On a whim, I decided to purchase a black pup. "Herbert's" litter was whelped at and given a great start with Louis West, Iron Sky Retrievers. Louis correctly described Herbert as "A big strong male that is full of himself." Luckily Louis was able to ship Herbert to me the week before the airlines shut down animal shipments due to Covid.
Herbert was amazing as a pup. He was a natural retriever bringing bumpers straight back to me, took diagonal lines, ran in and out of ponds without cheating on the return, and had intense focus and drive. Yet, Herbert was affectionate and calm in our house.
I took Herbert to Mark Henry in Idaho at age six months for basic and transition training. Mark handled Herbert in 10 Derby starts: five 1sts, two 4ths, and 2 JAMs. A big thank you, Mark. You are the best.
Herbert and I drove to Sedalia, Missouri to compete in the National Retriever Derby Championship stake, October 11-15, 2021. This was such a wonderful experience. Herbert and I were finalists! Later, Herbert spent seven months training with Greg Bartlett in Texas and Montana. Greg ran Herbert in one Open field trial in September 2022 where they made it to the 4th series. Herbert is now home training with me and enjoying life as a well-deserved spoiled house dog. Dianne and Herbert plan on competing in field trials in 2023.